Guide to Hawkmoths of the British Isles

Price: £2.95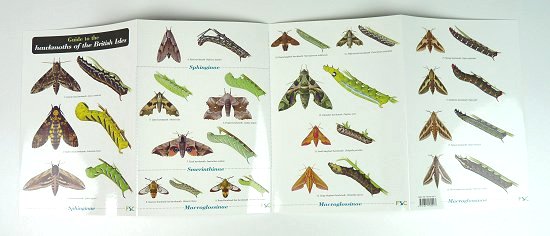 Description:
A superbly illustrated and fully laminated fold-out guide to identify all 18 British species of hawkmoth and their caterpillars.

The reverse side gives valuable information to help you with hawkmoth identification, including the regional distribution in Britain and Ireland of each species. There are details of the main larval foodplants and the time of adult emergence. More info is given on simple steps that you can take to attract hawkmoths to your own garden. It's suitable for all ages, and packed with information. Buy it now!

Features:
Size: 69.5cm X 24.5cm opened out - 17cm X 24.5cm folded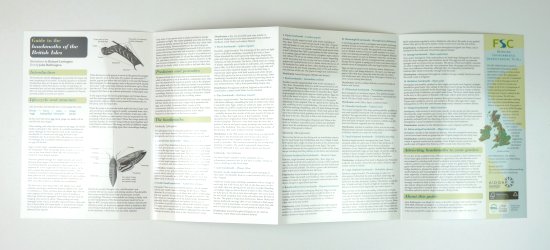 Customers who bought this guide also purchased the Butterflies of Britain Identification Chart, Guide to the Day-flying Moths of Britain and the Bugs on Bushes Identification Chart

Click here for more identification charts
Related Pages
FEEDBACK
A. Hendry, Aberdenshire
GREAT products, and service! Identification charts are brilliant.

J. Foxon, Cumbria
Extremely fast delivery. These laminated charts are a really excellent idea.

L. Johnstone, London
The charts arrived quickly and are good quality. My class love trying to identify the insects and spiders they find in the playground from the charts.

S. Trigg, Leicestershire
Charts arrived next day. Excellent quality and value for money

I.F. Clark, Coventry
The identification charts are even better than I thought they would be. Absolutely brilliant!!! Thank you so much.

S. Hill, Derbyshire
Everything arrived really quickly and well packaged. The field guides are brilliant.

T. Harding, Wrexham
Thank You. I will be back again to purchase more id charts - recommended.

V. Lane, Lancashire
The chart is great, and the customer service was exceptional - very quick delivery, and excellent communication throughout. I would recommend you without hesitation.