Owls Aloud!
Latest News > Owls Aloud! >

If you'd like to see a Tawny Owl, but aren't too enthusiastic about the idea of wandering through your local woodland in the middle of the night, then July could be your lucky month! Tawny owl chicks leave the nest after about five weeks, but they continue to rely on their parents to feed them for at least three more months. Sometimes they perch out in the open in broad daylight waiting for a meal.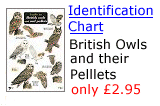 Tawny owls aren't particularly rare, there's about 20,000 breeding pairs in the UK, but they're seldom seen because they can be so well camouflaged during the daytime. There are plenty of baby tawny owls about now, and they sometimes give their presence away by perching in surprisingly obvious places, even during the daytime. They're about the size of a pigeon, but with a big, rounded head. If that wasn't obvious enough, they also make a loud "Kee-wick" call to attract their parents.

Although tawnys are primarily a woodland species they frequently turn up in urban gardens where they feed on anything from mice to earthworms.

Related Pages