Raising Ravens (Ravenous Part 2)
News Section > Raising Ravens (Ravenous Part 2) >
Posted: 19th September 2008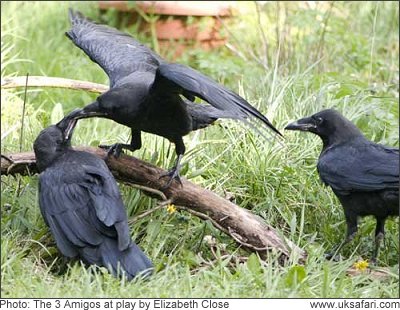 Do you remember those three orphaned Raven chicks that were found starving to death in a nest in Northern Ireland by Elizabeth Close? It's thought that their parents were either shot or scared away from the nest by shooting in the area.

Elizabeth felt she didn't have enough experience to look after the chicks herself, so was looking for someone to take on the job of rearing them. Hopefully this would lead to them being released, or at least giving them a life of semi-freedom (falconry style).
There was a terrific response from the UK Safari readers. Special thanks to Steve at Raven Haven, Chris Rugg, Rachel Whittaker, Felicity Moy, Malcolm Robbins, Richard Easey, Geraldine Aldridge, Lorraine Maynard, Mmattfev, Paul Franklin and Mary Lofthouse to name just a few.

Like everything these days, sending a wild bird to another part of the UK involves a lot of red tape. Elizabeth was expecting hassles with the legal aspects, but she soon discovered the beaurocracy makes it almost impossible. On top of this was the cost of animal transport, estimated at between £1,500.00 and £2,000.00. Then the person receiving the birds would need to deal with all the import documentation.

After weeks of fighting her way through the regulations (dished out in line with Parkinson's Law by three separate official departments) she was eventually told she wouldn't be able to send the birds anywhere on account of the bird flu threat! She was left with only one alternative, to look after the chicks herself. Anyway, by this time the three Ravens had already fledged.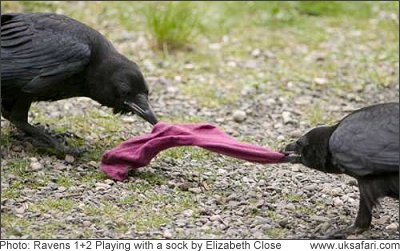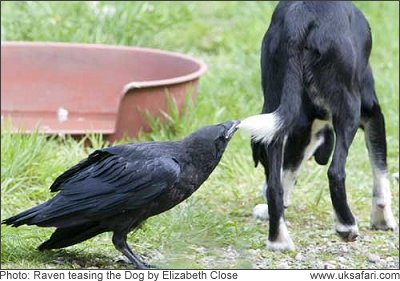 It turns out that looking after three young Ravens is not unlike looking after three naughty children - always up to mischief. By the end of May they had taken to the air, but were still returning to Elizabeth for food and shelter. Each day they got a bit more adventurous - flying a little bit further - getting mobbed by the local Jackdaws and then returning to roost.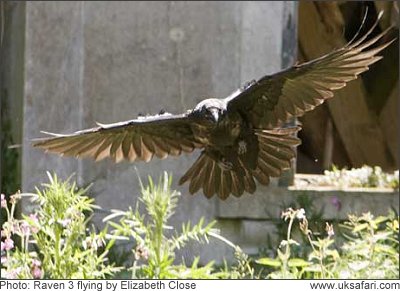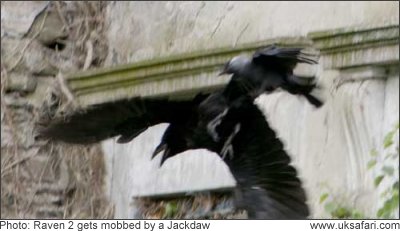 Elizabeth commented: "Words cannot describe the buzz seeing these great birds fly around, play, and then come towards you. Number 2 drops down with great elegance and it never ceases to make my jaw drop."

A few weeks later the chicks were starting to find their own food, and in July, number 2 summoned up the courage to stay away all night. A few days after that number 1 and number 3 followed his example. They stayed in the vicinity and Elizabeth was able to watch them progress as they made friends with other young ravens. The adult ravens have no more to do with their young after mid-July so the young have to join a gang! Not too dissimilar to ourselves.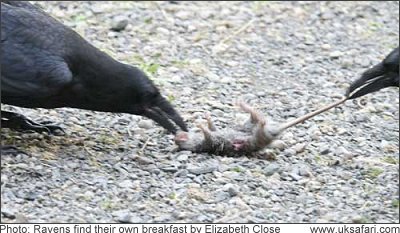 In the last couple of weeks they've moved on - driven away by an adult pair who have moved in to claim the territory. Elizabeth says she misses having the 3 Amigos around: "I miss seeing them play most of all. A few days after they all left number 2 returned with 8 others in tow. I think he became a sort of local hero because he knew where to get food. This proved that siblings do stay together and make friends with others of their age. The relief on my part was beyond words."

Related Pages