Photo of the Month - April 2012
Latest News > Photo of the Month > April 2012 >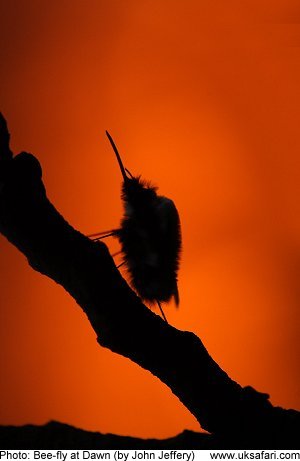 John Jeffery took this shot on March 20th in Cranbrook, Kent. He'd seen this Bee-fly 'roosting' the preceding evening and returned at first light the next day to see if it was still there. It was and he took this shot with the rising sun as a backdrop. This photo is direct from the camera with no enhancement.

Camera used was a Canon 40d with a Canon 100mm macro lens.

Bee-flies will perch in this way with the proboscis pointing skywards when they are cold (overnight for instance, as here) and they've been recorded as staying in the same position for up to a week.
Related Pages