Home | About Us | News | Meet The Birds | Fireworks | Gun Laws | Contact Us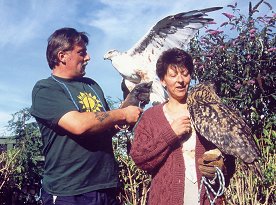 Andy and Jacqui with two Safewings residents


Safewings was founded by myself, Andy Meads, in 1966. Bird keeping has always been in my family and my father was a very experienced breeder and kept many species.


As a youngster I was always drawn to helping the injured wildlife brought to our house. In our World Cup winning year I started up Safewings to take in and care for injured wild birds.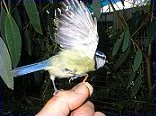 Tinker the Blue Tit
Through the years I have rescued many birds and in more recent years have not diversified into mammals choosing to concentrate on birds. We are not a charity nor do we sell any birds.


We have participated in many breed and release schemes, but were saddened when D.E.F.R.A. stopped the introduction of captive bred barn owls into the wild, as their numbers are still critically low.


We set up the very first 'Wild bird Veterinary Treatment Fund' to aid the high costs incurred for certain treatment. It has become very beneficial. This year I was asked by Zoologist Clinton Keeling to become a founder member of the Animal Keepers Forum which is set up for the advice on all aspects of Animal Keeping.


We have helped with the rehabilitation and re-homing of many of the increasing numbers of unwanted captive birds. You can read about some of our recent success stories here.


Over the past 8 years Jacqui my wife and myself have become full time (24-7) carers. We have made five regional television appearances over the past twelve months, and have been actively calling for stronger legislation on Air Weapons. At the sanctuary we receive all too many casualties from the antics of irresponsible air gun users.


We have also supported COFFAW, a group calling for the restriction on fireworks. Death and trauma caused by fireworks is rising rapidly, and yet their use is increasing.


As most of our work involves wild injured birds and many need seclusion to help recovery we do not open to the public. This minimises any trauma and unnecessary human contact. Another policy we adhere to is that we do not display any wild disabled birds, such as owls, as we find it morally and ethically wrong.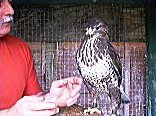 Tarot the Buzzard

We are asked on occasion to write articles for certain bird magazines and are frequently contacted in regard to many bird keeping questions. We offer help and advice whenever we can.



THANK YOU'S

Our thanks to Avenue Veterinary Hospital, Kettering Northants. Their help in setting up the fund and for their experience in aiding injured wild birds which is invaluable.


A special thanks to 'IN SHEDS' of Lutterworth for their kind donation of a new shed.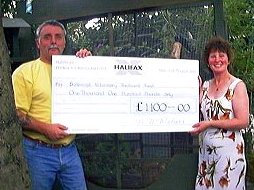 Andy and Margaret McMahon with a Donation
Thanks also to Margaret McMahon of Corby, Northants for raising £1,100 for the Veterinary Fund.



DONATIONS

We have never accepted financial donations at Safewings. If anyone offers a donation we ask them to donate to the Wildlife Veterinary Treatment Fund at our local Vets. This fund, initiated by ourselves, is the first of it's kind in the Country. The monies are held in Trust and used at the discretion of the Vets for ourselves or anyone taking in any injured wildlife.

Anyone wishing to donate to the fund should make cheques payable to "AVENUE VETERINARY HOSPITAL" and send them to: 33 St Peters Avenue, Kettering, Northants, NN16 OHB. Pllease mark the back of the cheque "SAFEWINGS". Thank you.






Safewings Website is Created, Maintained and Hosted by UK Safari
© 2004 - G. Bradley - www.uksafari.com