Home | About Us | News | Meet The Birds | Fireworks | Gun Laws | Contact Us

The Blackbird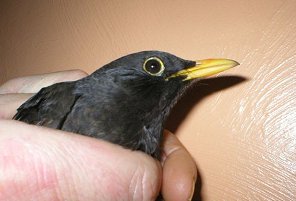 The Blackbird with his feathers restored

As many wildlife rehabilitators will know cats unfortunately play a very big part in the injury and death of many wild birds each year. Annual figures for Safewings has shown these incidents are on the increase due obviously in part to the fact that all too much natural habitat is developed each year pushing wildlife into our gardens and even areas of work.

Even the slightest break in the skin can lead to a birds death after a cat bite or scratch, unless treated quickly with antibiotics. A high proportion of birds, especially blackbirds can lose a significant amount of feathers thus disabling them from flight for a considerable period of time.

One young Blackbird that was mauled by a cat last year came to us almost bald and it has taken over 12 months for the bird to become feather perfect and fit for return to the wild. In most cases wild birds are held only for a very short period before re-release but in certain cases rehabilitation can take a long time.







Safewings Website is Created, Maintained and Hosted by UK Safari
© 200

5 - G. Bradley - www.uksafari.com