Home | About Us | News | Meet The Birds | Fireworks | Gun Laws | Contact Us

The Abandoned Geese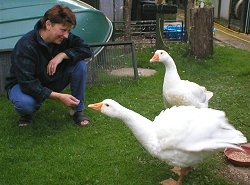 "Chalk" and "Cheese"

In September 2005, we took delivery of two young domestic Geese which had been abandoned in the Wellingborough area. Unfortunately incidents where people cannot or just simply do not want livestock (and pets) are on the increase. While it's slightly easier to rehome domestic pets, such as cats and dogs, with animals like geese, there's a far greater chance of them being left to die.

We spend a considerable amount of time re-homing unwanted and abandoned birds and feel that they should all be given a chance of a new life wherever possible. While it's understandable that people get into difficulties, and in certain cases have nowhere to turn for advice in regard to re-homing their companion animals, we always try to help and advise.

Fortunately these geese, nicknamed "Chalk" and "Cheese" were saved by a lady from Great Doddington and they have now found a secure permanent home..







Safewings Website is Created, Maintained and Hosted by UK Safari
© 200

5 - G. Bradley - www.uksafari.com