Home | About Us | News | Meet The Birds | Fireworks | Gun Laws | Contact Us

The Damaged Dabchick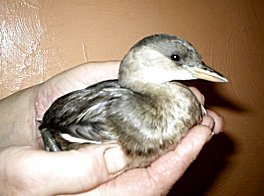 The little grebe or 'dabchick'
In December 2005 we took in a rather unusual patient - namely a Little Grebe, or as they're often called, a Dabchick. It was found at a lake near kettering and had sustained foot injuries and slight feather damage and loss. The injuries was most likely caused by a Pike or another predator such as a Mink.

We put her on a weeks course of antibiotics (0.04 per day), during which time she made good progress, and also developed a craving for white bait and mealworms. To make feeding time more fun we filled the kitchen sink with water and let her dive for her food, just as she would in the wild... well almost!

We gave her another week to fully recover (and obviously watched the weather) before we re-released her.







Safewings Website is Created, Maintained and Hosted by UK Safari
© 200

5 - G. Bradley - www.uksafari.com