Home | About Us | News | Meet The Birds | Fireworks | Gun Laws | Contact Us

Kettering to Jarrow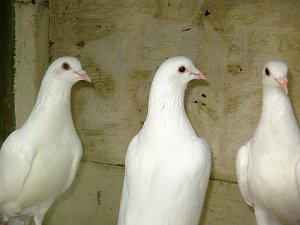 Doves - on their way to a new home
With opinion divided on feral pigeons and doves and them being more and more persecuted by society it is heart-warming to know that there are many people that do care for our feathered friends and will put themselves out to help them.

We had a call last week from a gentleman in Kettering enquiring if we could advise on how to deal with over 20 doves and feral pigeons ( 3 pictured ) that had taken up residence in their immediate vicinity. As there was growing neighbourhood anger at the billing and cooing at first light alternative accommodation / location seemed the only safe option.

Working closely we agreed that Safewings would initially hold the doves until new permanent homes could be found. So began the capture and transport of the doves to Safewings and the follow up of emails and phone calls across the Country.

Within five days new homes had been found - some local and one in Norfolk - but 8 will be soon winging their way by courier to Jarrow and a new life. The birds will initially have to spend three weeks in confinement wherever they are rehomed. If they're released too early, in true pigeon style, they will return to their roosts in Kettering.

It's remarkable to see peoples tenacity in helping birds that could have been so easily destroyed.






Safewings Website is Created, Maintained and Hosted by UK Safari
© 200

7 - G. Bradley - www.uksafari.com