Home | About Us | News | Meet The Birds | Fireworks | Gun Laws | Contact Us

The Greylags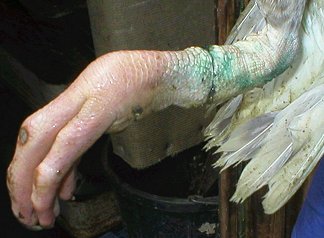 Fishing line injury

The majority of anglers and Angling clubs are very responsible in regard to safety with fishing line and hooks. In fact it is in many cases thanks to the anglers that we have such clean well stocked rivers and lakes. Sadly it is the irresponsible few that cause the problems and we were called out to assist two Greylag geese that had severe leg injuries due to tangled fishing line.

The birds had been injured for quite some time but we managed to catch them both and rush them to our Veterinary Practice. The fishing line had cut very deep into the legs but on careful removal there was still some circulation and the feet were still warm.

We kept the geese at Safewings where they are had antibiotics twice daily and antiseptic cream put on the wounds. We asked the Head of Borough Services stop the fishing until such time as a bailiff can be introduced to help stop these tragic accidents.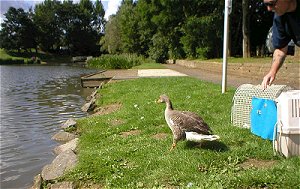 Release Day
The geese were released back on their lake on Monday 19th July. Thankfully they have made a full recovery with no after affects. We can only hope that people are more careful with their old fishing lines.








Safewings Website is Created, Maintained and Hosted by UK Safari
© 2004 - G. Bradley - www.uksafari.com