Home | About Us | News | Meet The Birds | Fireworks | Gun Laws | Contact Us

Gulliver's Story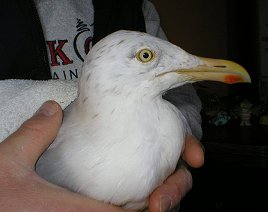 Gulliver the Gull


By January of 2004 we had already taken in three seagulls, which is as many as we normally take in a whole year. All of these common gulls are casualties of road accidents, which seems to imply gulls are scavenging more and more on road kill or discarded food dispersed along the roads.


Farming practices have changed and there are not so many farmers ploughing in our region. Much of the land has either been turned into what can only be described as prairie farming. Vast acres of hedgeless fields, sewn with rape or left for hay. There's not enough ground being cultivated.


With the help of our Veterinary fund and the work of our experienced Vets we are hopeful that at least two of the Gulls will make a full recovery and be successfully released.









Safewings Website is Created, Maintained and Hosted by UK Safari
© 2004 - G. Bradley - www.uksafari.com