Home | About Us | News | Meet The Birds | Fireworks | Gun Laws | Contact Us

Double Glazed Kingfishers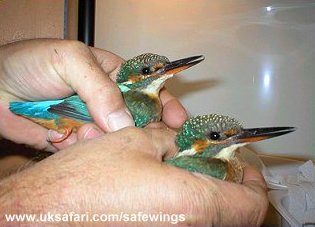 At the end of August 2003, this pair of dazed kingfishers were brought to us by a lady who had seen them both fly into her patio windows.

One of the kingfishers was still unconscious when it arrived, and the other had damage to the end of its beak. The birds spent the night in our intensive care unit, being monitored every hour. They were fed with a glucose based solution to help with any trauma.

The following morning both birds were sitting up and seemed fully fit. After a bit of reshaping, the bird with the damaged beak was back to normal. Both Kingfishers were taken that day to an area very close to where they were found, so they could be released back into their own habitat. The lady who had brought the birds to Safewings was contacted, and she was able to watch as both birds flew off. It was like something from a Red Arrows air display.

Safewings successfully released 500 birds back into the wild in 2003, including a beautiful female sparrowhawk which had also flown into a window.








Safewings Website is Created, Maintained and Hosted by UK Safari
© 2004 - G. Bradley - www.uksafari.com