Home | About Us | News | Meet The Birds | Fireworks | Gun Laws | Contact Us


Tarot's Story

November 2001 was a bad year for us. Fireworks were set off near our sanctuary, and one particular evening around the 5th of November our animals had rockets exploding over their heads.

"Tarot" one of our common buzzards was really upset and during the barrage of fireworks she panicked and somehow smashed her beak upwards severing the roof of her mouth.

As a temporary repair, we super-glued the outside damage and then took her to the vets, for what we thought was going to be very bad news.

Tarot with her pins fitted in 2001

Our local Vet made a number of phone calls to one of the top bird of prey Vets in the country, Mr. Neil Forbes. He suggested drilling four holes in the beak, two above the split and two below. Steel pins were placed through the beak and rubber tubing placed over the pins. The tubing was filled with dental acrylic, making a very strong and water proof fixing.

Many months of hand feeding followed. Now, two years on, the pins have been removed and the beak has made some new growth but we still need to hand feed her, and trim the lower beak occasionally.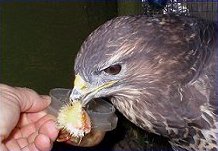 Tarot photographed in 2003
Tarot was seventeen in 2003 and her injury is a daily reminder of the damage fireworks can do to innocent animals.

In 2003 we played a part in presenting 92,835 signatures to Downing Street of people who want to see tighter controls on fireworks. This petition was mainly the work of one lady, Teresa Kulkarni.

We feel very strongly that fireworks cause so much unnecessary death and trauma to pets, livestock and wildlife. For this reason we are asking for your help... more>>






Safewings Website is Created, Maintained and Hosted by UK Safari
© 2004 - G. Bradley - www.uksafari.com