Home | About Us | News | Meet The Birds | Fireworks | Gun Laws | Contact Us

The Thrush Family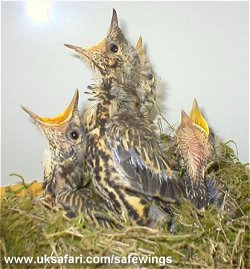 The Thrushes on the Nest

We would like to thank the quick-thinking employees at Weetabix in Burton, Latimer, for the rescue of an injured female Song thrush and her brood of youngsters.

The parent was badly injured and unable to feed her young. Sadly, this would have seen the young fledglings perish. Luckily the employees at Weetabix managed to catch the injured Song thrush and brought it along with the youngsters to Safewings.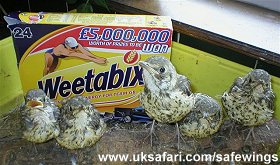 The chicks are now being fed on a formula
with Weetabix in the ingredients

The youngsters are now being hand fed, and kept in one of our ICU units. Things are looking good for the thrushes now. Once the chicks have fully fledged they can be re released back into the area they came from.

It is important that any injured birds, and their fledglings, are given a helping hand. Even more so with declining species like Song thrushes.







Safewings Website is Created, Maintained and Hosted by UK Safari
© 200

5 - G. Bradley - www.uksafari.com