Home | About Us | News | Meet The Birds | Fireworks | Gun Laws | Contact Us

Tilley the Swallow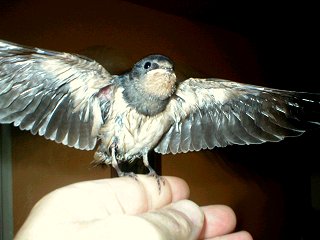 Tilley prepares for take-off

On August 2nd 2004 we were brought a young fledgling Swallow by a gentleman who had rescued it from a fallen nest. He had asked for advice two weeks before in regard to feeding it himself and wanted to care for the little Swallow that had been named Tilley.

Tilley was almost ready for release but had become attached to her carer and he was concerned that Tilley could not go free. Tilley was most certainly friendly and would readily fly onto your head or finger for company and food. We had our work cut out getting Tilley to become self reliant.

Tilley became more and more adventurous, and stronger, flying around the garden. More importantly she was feeding herself from her enclosure.

Over the weekend of 28th 29th August she began to find her flying boots. Remarkably on September 2nd she took off skyward towards the many other Swallows along our valley. The odds are always stacked high against these wonderful little birds but but her determination to make it, hopefully will see her succeed.







Safewings Website is Created, Maintained and Hosted by UK Safari
© 2004 - G. Bradley - www.uksafari.com