Glow-worms
Identify It > Creepy-crawlies Section > Beetles Section > Glow-worms >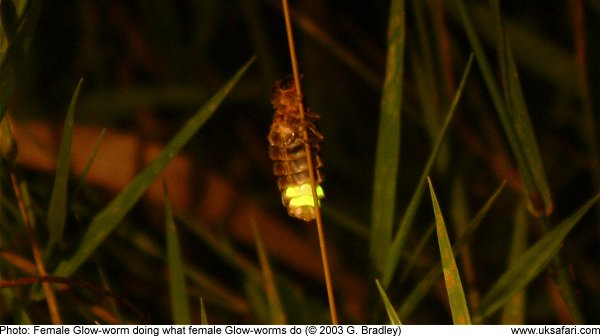 Scientific name: Lampyris noctiluca

Size: Up to 15mm

Distribution: Found in parts of England (especially the south), lowland Scotland and Wales. No sightings received from N. Ireland

Months seen: Active from May to late August. They are most noticeable at night in June and July when the females light up to attract the males

Habitat: Meadows, parks, gardens and orchards on low growing vegetation. During the day they can be found under stones and logs

Food: The larvae feed on small snails and slugs. The adults rarely feed at all

Special features: Glow-worms are not really worms at all. In fact they're beetles. This is most obvious when you see the male. The male is about 12mm long, and is a light brown colour. He's equipped with large, light-sensitive eyes which he uses for scanning for glowing females. Males have a weak fluttering flight, similar to moths.

The larvae look like a cross between a caterpillar and a millipede. They're about 25mm long and have soft, rubbery bodies. The tail is equipped with a series of white bristles which they use to remove slime from their body after eating snails.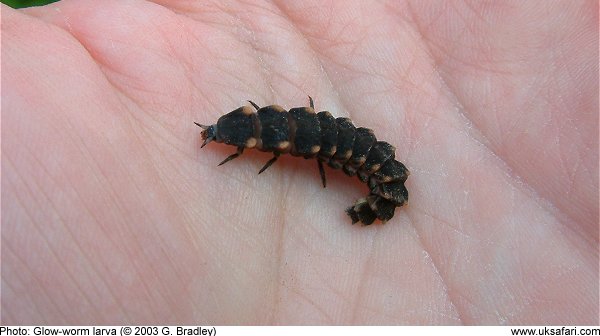 The female is the one noticed by most people since she produces a green light from her bottom. It's about as bright as an LED, like those on electronic gadgets. It is a cold light, so no energy is wasted in heat production. The light is created by a substance in the abdomen called luciferin, which when mixed with oxygen, breaks down creating the light.

Only the last few segments of the females abdomen emits light. She has complete control over the light emission, and is able to switch it on and off at will.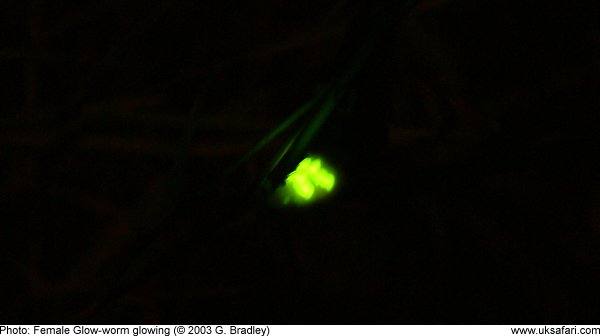 The larvae also emit light, but from a smaller patch, and even the eggs of the glow-worm, which are laid in clusters of up to 100, can emit light.

The adult glow-worms only survive for a few weeks, and in that time need to mate and lay eggs to ensure the survival of the next generation. All this depends on the low-flying male spotting the glowing female and mating successfully.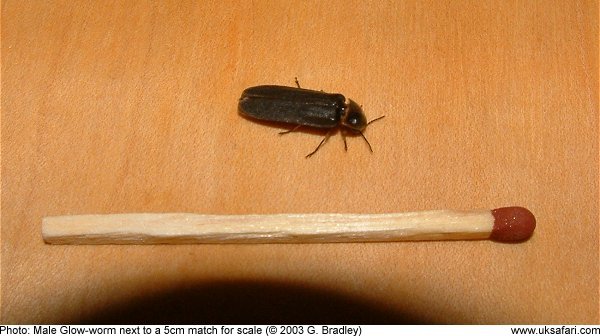 Street lighting and security lighting seems to have a detrimental effect on glow-worm reproduction. In areas where there is artificial lighting, males are attracted to this, and miss the females altogether. For this reason, glow-worm populations seem to survive better in areas with less 'light pollution'.

The best time to look for glow-worms is after 10pm when it's dark.

If you see any glow-worms please fill in the Glow-worm Sighting Form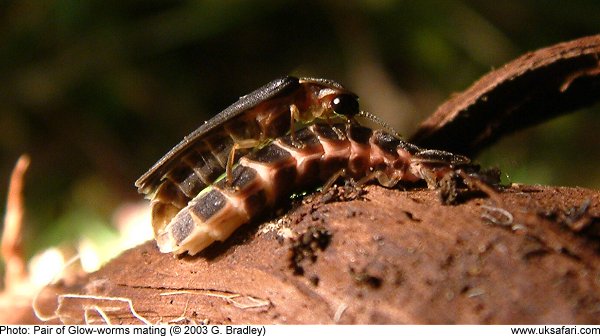 Recent Sightings
2015 - 11 May - Paula McGuirk - Swadlincote, Leicestershire - 1 larva
2015 - 20 Jun - Karene Wainwright - Flimwell, Wadhurst, East Sussex - 3 females, 2 males
2015 - 21 Jun - Peter Thorn - Reading, West Berkshire - 1 female
2015 - 25 Jun - Carla Finch - Trehare, Calstock, Cornwall - 1 male
2015 - 07 Jul - Karene Wainwright - Flimwell, Wadhurst, East Sussex - 2 females, 1 male
2015 - 07 Jul - David Stone - Mottisfont, Romsey, Hampshire - 2 females
2015 - 10 Jul - Mike Starks - Dinnaton, Ivybridge, Devon - 1 female
2015 - 11 Jul - Diane Mellor - Knettishal Heath near Thetford, Norfolk - 1 female
2015 - 11 Jul - Amy Hall - Ketton Quarry, Lincolnshire - 7 females
2015 - 12 Jul - Madysin Lacourte - Windsor, Berkshire - 1 male
2015 - 23 Jul - Sally Stone - Wimborne, Dorset - 3 females
2015 - 02 Aug - Richard Bignall - Lewes, East Sussex - 10 females
2015 - 04 Aug - James Barnett - Alsager, Cheshire - 6 females
2015 - 06 Aug - Margaret Head - Cowfold, West Sussex - 10 females
2015 - 27 Aug - Fred Ellis - Eartham, nr Arundel, West Sussex - 1 larva
2015 - 30 Aug - Fen Marshall - Wotton under Edge, Gloucestershire - 4 females
2015 - 31 Dec - David Button - Brownstone, S. Devon - 1 female

2016 - 19 Apr - Lawrence Sampson - Blean Woods, Kent - 1 larva
2016 - 25 May - Dr. J Harry Baumer - Yealmpton, Plymouth, Devon - 2 larvae
2016 - 31 May - Rebecca Polain - Brede, East Sussex - 1 larva
2016 - 12 Jun - Eleanor Sweet - Corfe Castle, Dorset - 4 females
2016 - 16 Jun - Rebecca Polain - Brede, East Sussex - 1 larva
2016 - 20 Jun - Margaret Mayo - Leiston Common, Suffolk - 1 female
2016 - 21 Jun - Angela Thomas - Brading, Isle of Wight - 1 female
2016 - 26 Jun - Victoria Hemming - Porthcawl coastal path, South Wales - 50+ females
2016 - 27 Jun - George Bullivant - Zeals, Warminster, Wiltshire - 1 female
2016 - 27 Jun - Michael S Pearey - Tuckenhay, Totnes, Devon - 6 females, 2 males
2016 - 03 Jul - Luke Roberts - Newdigate, Surrey - 3 females
2016 - 04 Jul - Lisa Osment - Charminster, Dorchester - 1 female
2016 - 05 Jul - Adam Paul Durrant - Grateley, Andover, Hampshire - 2 females
2016 - 07 Jul - Daryl Fitzpatrick - St. Helens, Isle of Wight - 3 females
2016 - 08 Jul - Graham Moates - Harling, Norfolk - 2 females
2016 - 10 Jul - Heather Hills - Clanfield, Nr Petersfield, Hampshire - 30 females
2016 - 10 Jul - Adrian Mitchell - Trushem, South Devon - 6 females
2016 - 11 Jul - Wayne, Scott and Kelly - Culford, Suffolk - 3 females
2016 - 16 Jul - Louise Clair Collins - Ferndown, Dorset - 7 females
2016 - 17 Jul - Julian Rayner - Medway Gate, Strood, Kent - 3 females
2016 - 22 Jul - Ken Ferris - Cranham, Gloucestershire - 1 female
2016 - 24 Jul - William Mcdowell - Ballymena, Co Antrim - 1 larva
2016 - 27 Jul - Hugh Woolley - Heyshott, West Sussex - 1 female
2016 - 03 Aug - Dee Woods - Ashurst Campsite, New Forest, Hampshire - 4 females
2016 - 08 Aug - Andrew Jackson-Shaw - Portland, Dorset - 3 females
2016 - 02 Sep - Jill Dewar - Medmenham, Buckinghamshire - 6 larva/females


Related Pages